The IOHK CEO Charles Hoskinson gave his perspective on why Cardano will outshine Ethereum 2.0. In an interview with Ben Armstrong, AKA Bitboy Crypto, Hoskinson spoke about Cardano having a simpler and more robust design than Ethereum.
What's more, he doubts whether this added complexity will result in higher throughput, better scalability, and more security for the Ethereum network.
As deadline day fast approaches for the Goguen rollout, the coming weeks and months will prove critical in establishing whether Cardano can gain ground over Ethereum as the go-to smart contract platform.
Today, a strong performance sees ADA breaking the $0.50 barrier, making a 37 month high in the process.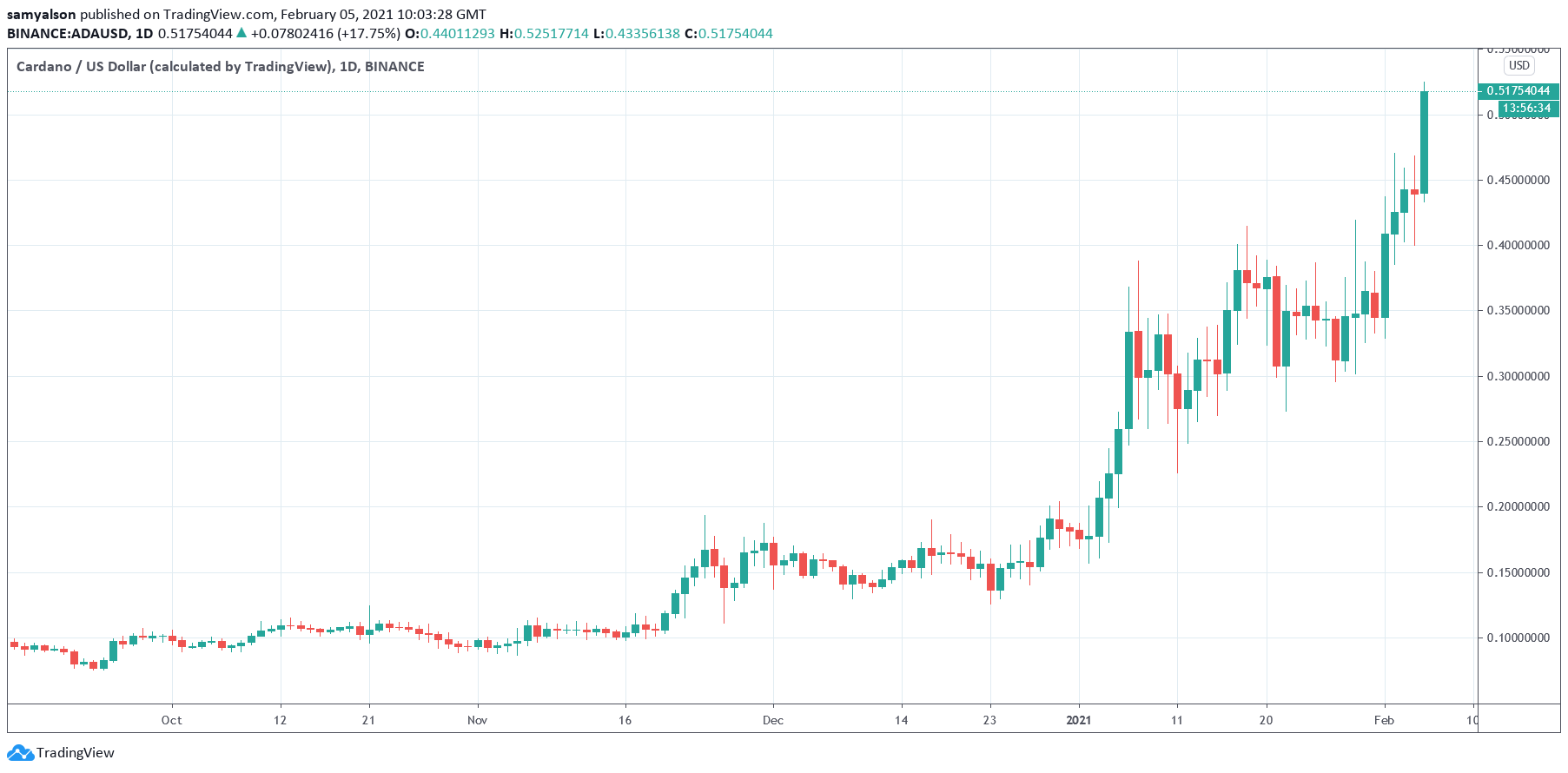 Source: ADAUSD on TradingView.com
Cardano Features Robust and Simple Design
Much has been said about "Ethereum killing" for the longest time. But developments at Cardano are rapidly gaining pace as 2021 unfolds.
The "Goguen Mary" testnet successfully deployed this week, meaning "native token" support will soon come to the Cardano ecosystem. This will transform it into a multi-asset ledger, opening up a world of possibilities, including DeFi.
As the term suggests, "native" means these custom tokens will transact directly on the blockchain, just as ADA does. Most other blockchains, including Ethereum, deal with custom tokens via smart contracts on top of the base layer.
On that, Hoskinson said the design differences between the two puts Ethereum on the back foot. Adding, this makes Ethereum brittle and fragile.
"But I think Vitalik's are a little bit riskier from an engineering and research viewpoint, which is why it's been so difficult for them to get ETH 2.0 out.

They've put themselves in a situation where they're betting on optimistic ZK-Rollups, sharding tech, and these other things, and that's very brittle and fragile. The science is not very good yet.
Elaborating further, he said Ethereum's complex approach brings with it many trade-offs,…