Just weeks ago, XRP was outperforming Bitcoin, and everything Ripple related was coming up roses. However, less than 10 days ago, all of that came crashing to an abrupt end.
It emerged that the U.S. Securities and Exchange Commission (SEC) was building a case against Ripple, and its two most senior executives, over securities fraud.
"The complaint alleges that Ripple raised funds, beginning in 2013, through the sale of digital assets known as XRP in an unregistered securities offering to investors in the U.S. and worldwide. Ripple also allegedly distributed billions of XRP in exchange for non-cash consideration, such as labor and market-making services."
The news shocked the cryptocurrency world. More so, the timing of the announcement, in that the SEC leadership has just weeks left before leaving office, with the rest of the Trump administration.
The XRP price suffered tremendously. From its mid-November year to date high of just under $0.80, XRP has plummeted as low as $0.1686 at one point. This represents a 79% drop.
Today sees some semblance of a fightback, with the price up 2% in the last 24-hours to $0.2198 at the time of writing.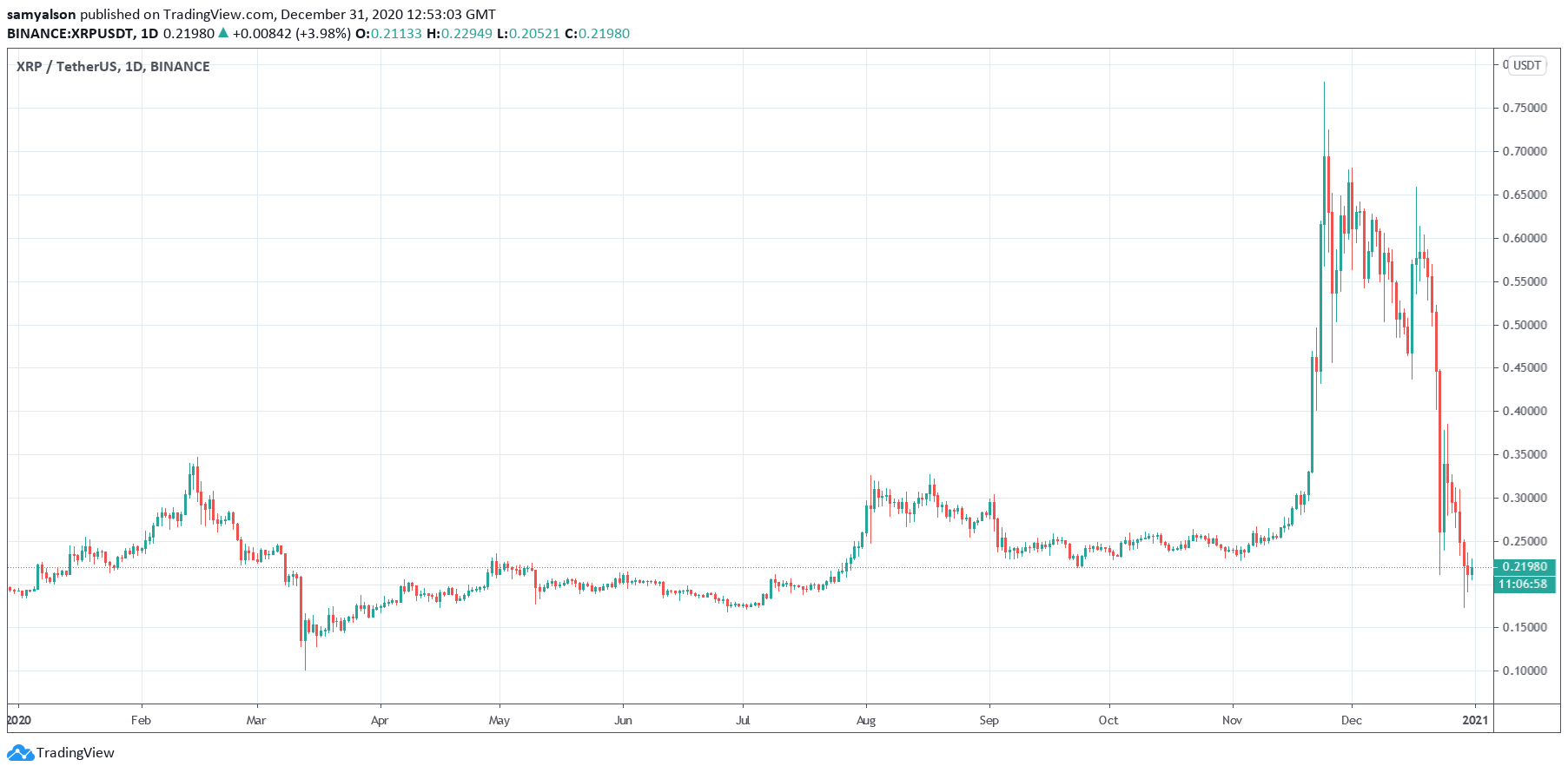 Source: XRPUSDT on TradingView.com
XRP Exchange Exodus Accelerates
Each passing day sees another crypto exchange either suspend or removed XRP trading altogether. Yesterday was the turn of Binance U.S., who elected to delist XRP with effect from January 13, 2021.
According to crypto researcher Larry Cermak, that leaves Kraken as the only big exchange serving U.S. users wishing to trade XRP. However, Cermak is of the view that Kraken will fall in line with the others soon.
Kraken is now officially the last major exchange serving U.S. customers that hasn't yet delisted XRP. Coinbase, Bitstamp, Bittrex, Binance US, FTX US all delisted already. Announcement must be imminent.

— Larry Cermak 🟨 (@lawmaster) December 30, 2020
The latest development sees a pre-trial conference set for February…