Year-to-date gains for Dogecoin come to over +6,000%, making it significantly more profitable than Bitcoin, which is up a comparatively paltry 88% over the same period.
Most view this as generally positive for crypto, not least in the fun and charitable sense. However, given the lack of fundamentals underpinning DOGE's price, the fallout could be devastating once the music stops, and not just for DOGE holders.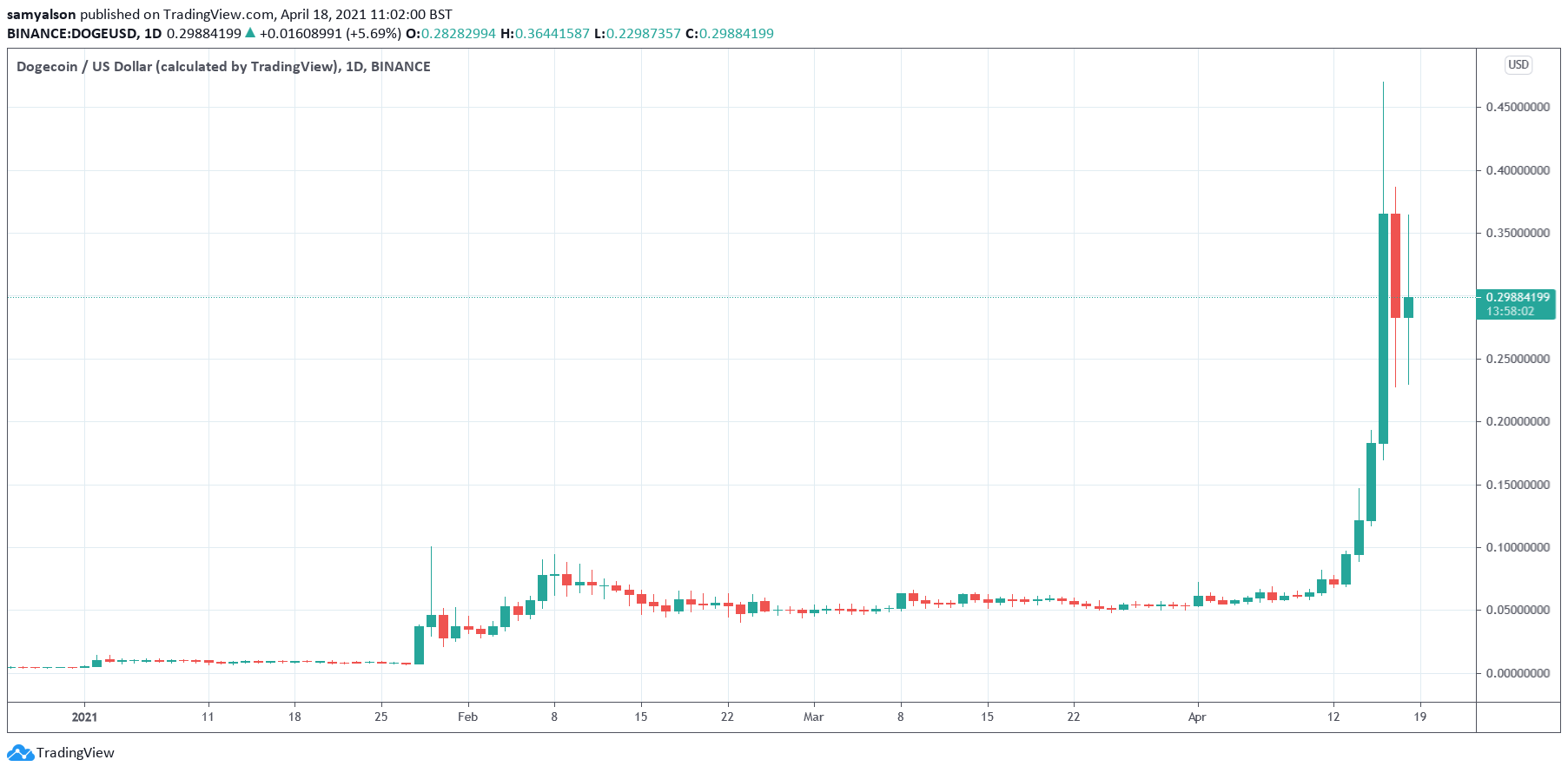 Source: DOGEUSD on TradingView.com
Dogecoin to The Moon
Dogecoin spiked past $0.45 on Friday, an unthinkable price pre-r/wallstreetbets. Nonetheless, DOGE investors remain staunch in their belief that $1 is coming soon. But without trying to sound disparaging, a $1 DOGE would put it on an equal footing with Sony.
The Japanese tech giant has an 80 year+ history, over 100k+ employees worldwide, and brought to market iconic innovations, including the Walkman and the PlayStation consoles. In contrast, Dogecoin took three hours to make and is best known as a meme to lighten the mood.
During the height of the r/wallstreetbets saga, co-creator Billy Markus re-surfaced to say he cannot believe the extent to which his creation has taken off. On a $1 Dogecoin, Markus said:
"People are talking about Dogecoin going to $1 – that would make the "market cap" larger than actual companies that provide services to millions, such as Boeing, Starbucks, American Express, IBM. Does Dogecoin deserve that? That is not something I can comprehend, let alone answer."
He added that Dogecoin is perhaps a measure of how far from reality things can get. In terms of being far from reality, 6,000% gains in 18-odd weeks is already up there as highly unusual.
Market Manipulation Explains DOGE Performance
Given Dogecoin's lack of fundamentals, its ascent to the moon has raised more than a few eyebrows. IOG CEO Charles Hoskinson attributes its run primarily to Elon Musk and clever market manipulation by whales.
Musk has put on a pro-Dogecoin front for the longest time, even…