Bitcoin has faced a strong 20% correction over the past five or six days. This drop has brought the leading cryptocurrency from the local highs near $12,100 to a low of $9,800, marking the most notable retracement in months.
Analysts remain long-term optimistic about BTC's bull case. However, the severity of the recent correction has made analysts cautious as to what will happen to Bitcoin's price in the coming weeks.
There is a price level, though, that if retaken, will convince a number of analysts that Bitcoin's bull trend remains intact.
Bitcoin Needs to Retake This Level to Convince Analysts of the Medium-Term Bull Case
According to a number of technical analysts, Bitcoin retaking $11,200 will be pivotal for the bull case moving forward.
The head of technical analysis at Blockfyre, a crypto research firm, commented on the matter:
"My thoughts on $BTC: Reclaim 11.1-11.2k and we are back in the previous range. Will look to sell the BTC I bought back there if given. Potentially 10.6k too. Reclaim 11.1-11.2k and back in. Reject target 9.6k and mid 8's."
This was echoed by another pseudonymous analyst that predicted the ongoing correction.
They noted that Bitcoin needs a "significant daily close above $11,200" to invalidate the bearish case that they're currently pricing in. Referencing the chart below, the analyst wrote:
"Somehow looks even worse than when I left. I'll be looking for bounces to add to shorts but honestly, I'm not even sure we get those. My trade & my idea will be invalidated if we get a significant daily close above $11200. Until then I'm going to be a full-blown beartard."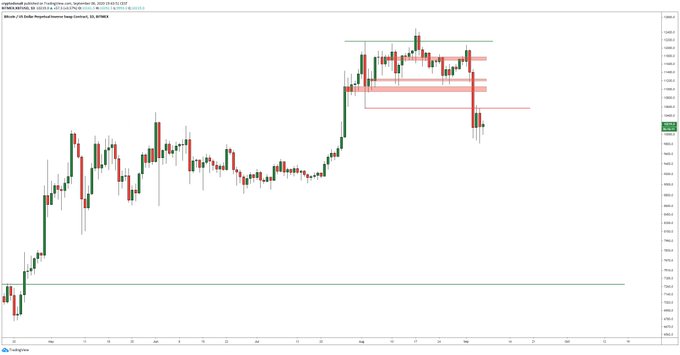 Chart of BTC's price action over the past few months with analysis by crypto trader DonAlt (@CryptoDonAlt on Twitter). Chart from TradingView.com