Bitcoin has seen a slight recovery since the Friday lows of $11,400. The asset now trades for $11,600 as of this article's writing, but BTC is still around $900 below last week's $12,500 highs.
The cryptocurrency may soon bounce further as a number of positive technical trends form. These technicals do not indicate, though, that Bitcoin is ready to set a new year-to-date high above $12,500.
Bitcoin Could Soon Bounce As Three Positive Technical Signals Form
An analyst says that there are three pivotal signs showing that Bitcoin may bounce after retracing around $1,000 from Monday's highs. Referencing the chart below, the analyst identified these signs as follows:
Bitcoin has broken above a textbook falling wedge pattern, which is traditionally a bullish chart pattern.
The six-hour MACD has formed a bullish divergence with the underlying BTC price.
The "Willy" indicator has reset to low levels after indicating BTC was oversold.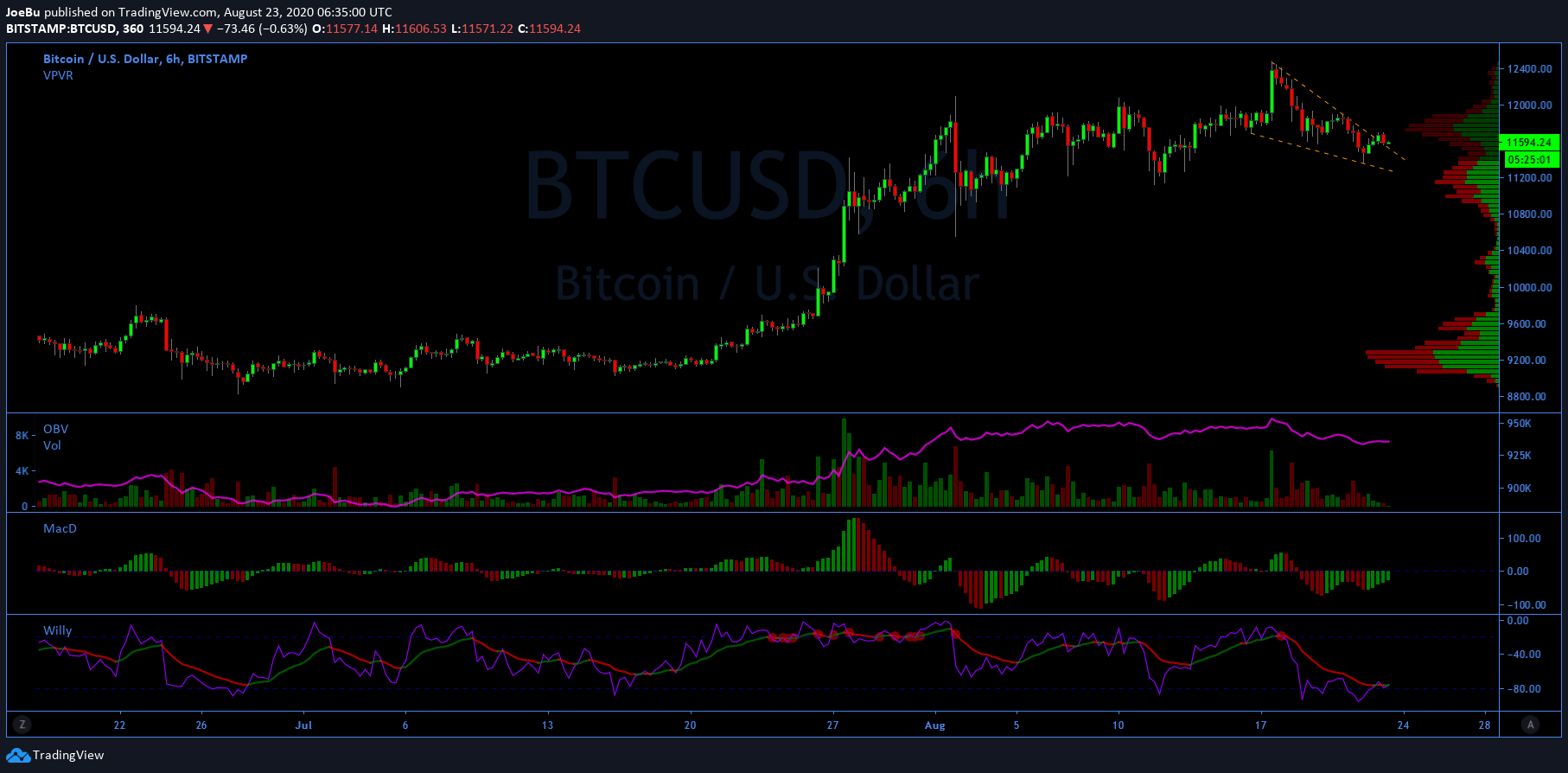 Chart of BTC's price action over the past few months with an analysis by crypto trader JB (@blackswan0815 on Twitter). Chart from TradingView.com
All Part of a Longer Trend of Consolidation
Although this shorter-term setup could pan out, many analysts agree that Bitcoin is likely to consolidate in the current range for the coming days, maybe weeks. That's not to say that Bitcoin isn't in a macro bull trend, it's just that analysts say the cryptocurrency needs to cool down.
One trader shared the chart below on August 21st. It shows that Bitcoin is forming the same one-day bearish divergence against the relative strength index that was last seen at the consolidation after the May highs.
Both periods of consolidation, the ongoing one and the one from May to July, also have similar structures.
Commenting on the significance of the divergence, the trader remarked in reference to the chart…