Bitcoin is showing signs of continuing its bullish momentum despite a recent sell-off that it experienced after soaring towards $18,500.
The flagship cryptocurrency's latest downside correction has met with an equal resistive buying sentiment near local lows. As a result, its price against the dollar has rebounded on multiple breakdown attempts, creating a structure that appears like a Bull Pennant.
Bitcoin forms an upside continuation pattern. Source: BTCUSD on TradingView.com
The Bullish Structure
In retrospect, a Bull Pennant is a bullish continuation signal that forms during an asset's uptrend. It shows traders with a short-term risk appetite liquidate their positions for an interim profit. Meanwhile, those with a long-term appetite prepares to reload their positions at local support levels.
That reduces the bid for the asset, overall, causing a correction. But as the price consolidates, forming lower highs and higher lows, it represents higher accumulation sentiment from the long-term traders. As a result, the asset typically breaks out above the range, with an upside price target as high as the rally's height before the consolidation started.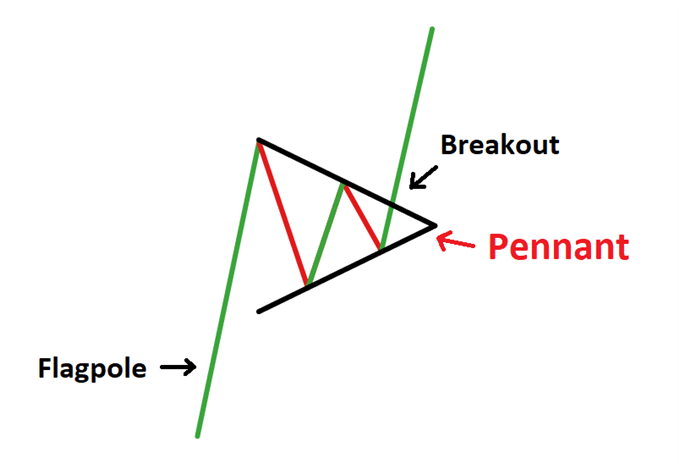 Bull Pennant Example. Source: DailyFX
Bitcoin fits the criteria of the said Bull Pennant Structure. The cryptocurrency rallied by $1,898 and is now consolidating sideways inside a converging trendline structure. All it needs to confirm the Pennant fully is to break out and rise by as much as $1,898.
That puts Bitcoin en route to hitting $20,000 (or levels $100-150 shy of it).
Bitcoin Fundamentals
The prospects of hitting $20,000 increase further because of supportive fundamentals. Bitcoin this month received attention from global media, with the likes of Financial Times, the Wall Street Journal, and CNN covering the cryptocurrency after it rallied by more than 150…