The DeFi sector saw a sharp drooped in its Total Value Locked, according to DeFi Pulse data. At the time of writing, the metric is recovering quickly and stands at $54.93B. Sitting at the number six spot on the top 10 DeFi protocols by TVL with $3.88B, SushiSwap could be on the verge of taking a leading position.
Uniswap's v3 deployment is around the corner, but its competitor remains in the innovative race. Since January 2021, SushiSwap has been taking over the total Weekly DEX Volume, as research firm Messari reported.
Presently, SushiSwap generates around 15% of the weekly DEX volume. In comparison, Uniswap is responsible for around 11% of the same metric, as shown in the chart below.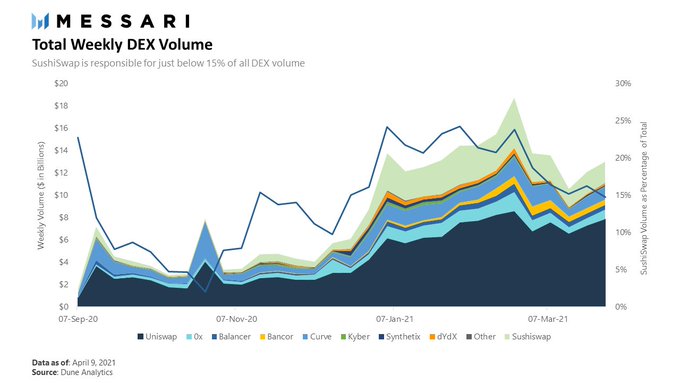 How SushiSwap's BentoBox and Kashi operate
Recently, SushiSwap released a new "aggressive strategy". Its objective, to grow beyond its current use case as an automated market maker. The strategy revolts around BentoBox and Kashi Lending.
The first product is a single vault that contains the assets deposited by users and makes them available for DApps "builts off of the vault", as Messari stated. In contrast with similar products, BentoBox is more efficient when transferring the token, more efficient in terms of gas fees and complexity, easier to integrate, and has "a single token approval for use".
On the other hand, Kashi is a lending and margin trading platform. Created as BentoBox's first DApp, Kashi operates with "isolated lending pairs", as Messari stated.
Users lending assets in Kashi can yield an interest rate. The lending pairs work with a similar mechanism as that of liquidity pools, a user provides the asset as collateral for the lender, Messari adds:
By having specific lending pairs where the collateral can only be used to borrow one specific asset (eg. in a ETH/SUSHI pair, deposited ETH acts as the collateral for SUSHI and only SUSHI), the risk for users can be isolated to the quality of assets and oracle used…