While the focus of crypto investors has been on Bitcoin and Ethereum over recent days, Litecoin's recent price performance has come into the public spotlight. From last week's lows of approximately $55, the asset has surged just over 20% to $67 as of this article's writing. The embattled Bitcoin fork has suffered from a multi-year bear market after the highs of the 2017-2018 bubble.
Analysts are optimistic about the prospects of LTC in this market, despite some cynics saying that the asset has no intrinsic value.
Litecoin Is Poised to Break Even Higher Than It Has
Analysts are already expecting Litecoin to surge even higher despite the nascency of the ongoing upswing.
One trader that has publicly predicted Ethereum and Tezos' price action to a T shared the two charts seen below. They look simple but they suggest that LTC is poised to rally parabolically towards the trader's targets, depicted by the green magnet.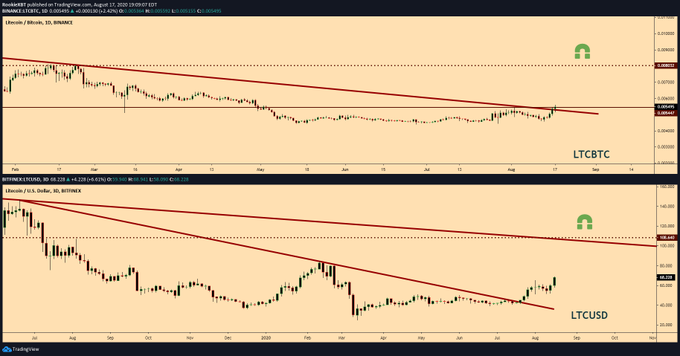 Chart of LTC's price action against both Bitcoin and the U.S. dollar by trader "Major Rookie" (@RookieXBT on Twitter). Chart from TradingView.com
Others have shared in the optimism about the leading altcoin, which is currently the seventh-largest by market capitalization.
As reported by NewsBTC, one trader noted that Litecoin could outperform Bitcoin by 45-175%. According to the trader's analysis, LTC?BTC has moved above a pivotal downtrend that was formed a year ago, has undergone an influx of buying volume, and has confirmed a "buy" as per his proprietary indicator. These factors working in tandem will allow LTC to outpace Bitcoin, the analyst explained.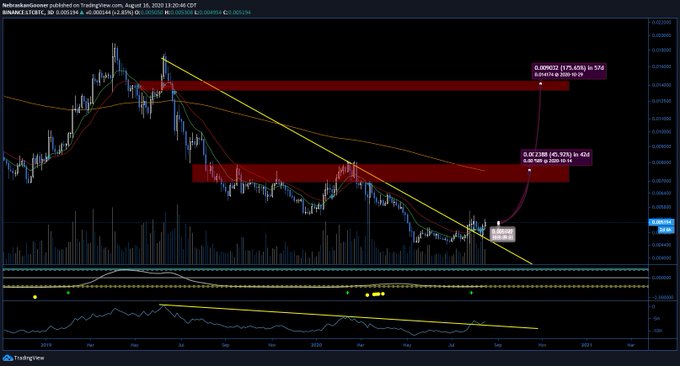 Chart of LTC's price action against Bitcoin in the past two years or so with analysis by trader Nebraskan Gooner (@Nebraskangooner on Twitter). Chart of TradingView.com
Bitcoin Volatility Could Dampen LTC Breakout
Litecoin's ongoing rally comes in spite of Bitcoin and Ethereum breaking higher. While this trend where LTC ignores the volatility of the…