Getting Started with Blockchain in AWS
You can use the Amazon Managed Blockchain service in Amazon Web Services to set up your own blockchain network based on Hyperledger Fabric.
Blockchain technology has been seeing rapid adoption over the past couple of years, so it's hardly surprising that Amazon has added a blockchain solution to its Amazon Web Services (AWS) platform. You can access Amazon Managed Blockchain by logging into the AWS portal, and selecting the Amazon Managed Blockchain option from the Blockchain section within the list of services.
Because blockchain is relatively new to the AWS platform, it's currently only supported in a couple of regions. Another limitation to be aware of is that currently the only supported blockchain framework is Hyperledger Fabric, although Amazon will be adding support for Ethereum in the near future.
Deploying blockchain on AWS consists of four primary steps. First, you'll need to create a blockchain network based on your chosen blockchain framework (again, Hyperledger Fabric is currently the only choice). Once that network is up and running, you can invite other AWS account holders to participate in your blockchain, and then you can begin adding peer nodes. The last step in the process is to deploy applications that utilize your blockchain network. So with that said, let's take a look at how to set up a blockchain network.
As previously mentioned, the first step in setting up a blockchain network is to choose the framework that you want to use. If you look at Figure 1, you can see that Hyperledger Fabric is currently the only available choice, but you can choose between deploying the Starter Edition and the Standard Edition.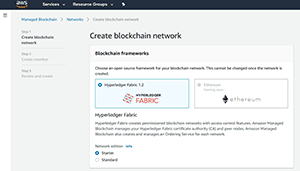 In case you're…