Ethereum has surged higher in the past 24 hours by nearly 10%, pushing as high as $520 for the first time since 2018. The leading cryptocurrency is currently outpacing Bitcoin on a daily basis, though is still underpacing BTC on a multi-week basis.
Analysts think the cryptocurrency will surge even higher in the weeks ahead as the trend still seems to be positive for the top coin.
Ethereum Surges Higher 
Analysts think Ethereum explode higher in the weeks ahead as it passes key resistance levels in the high-$400s and enters the $500s. Referencing the chart seen below, which shows Ethereum breaking above long-term resistance levels, one analyst recently commented:
"So, if all goes according to plan with $ETH, what's your 'realistic' price target? (ex. where will you look to close leveraged longs within a week or two). Personally, I'm looking at the $570 weekly level, with a potential push towards a round $600 if momentum is really strong."
Ethereum is set to move toward the resistances in the $600 range, the trader said in reference to the chart. as the chart shows $600 is where the next weekly resistance on the macro chart lies.
Other analysts think that Ethereum is free to rally from current levels toward $800. Though at this point, it remains to be seen if this will play out as they expect.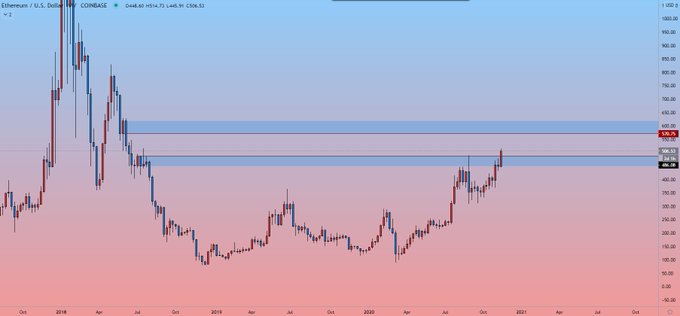 Chart of ETH's price action over the past three years with analysis by crypto trader Chase_NL (@Chase_NL on Twitter). 
Source: ETHUSD from TradingView.com
ETH2 Update
Ethereum Foundation developers have been giving updates about the upcoming upgrade, ETH2 or Serenity. The upgrade is expected to dramatically overhaul the blockchain and implementing new token-economics.
Ethereum founder Vitalik Buterin recently commented on the token-economics of ETH2:
"In two years the…