Yearn.finance's native token, YFI, is expected to outperform into 2021 due to fundamental and technical trends.
A leading crypto-asset analyst recently shared that YFI's recent price action looks extremely similar to that of Ethereum prior to the cryptocurrency's major bull run in 2017. This fractal comparison suggests that Yearn.finance's native token will undergo an extreme surge in the coming year.
There are also fundamental trends set to drive the cryptocurrency higher. Namely, Yearn developers are set to release an upgrade to a core product while project founder Andre Cronje has been pioneering partnerships with other top DeFi protocols.
YFI To Outperform in 2021, Key Fractal Shows
According to a crypto trader, YFI's recent price action seems extremely similar to that of Ethereum in late 2016. Both charts have similar technical formations, along with similar fundmental theses as well:
"Get the feeling $YFI is gonna pull a late 2016 $ETH and build up insane pressure in the form of an ascending triangle and blast off into price discovery during late December-early January whilst the real bull run plays out in 2021 (2017 for ETH)."
Should Yearn.finance's token follow the path of ETH, YFI will perform extremely well in 2021.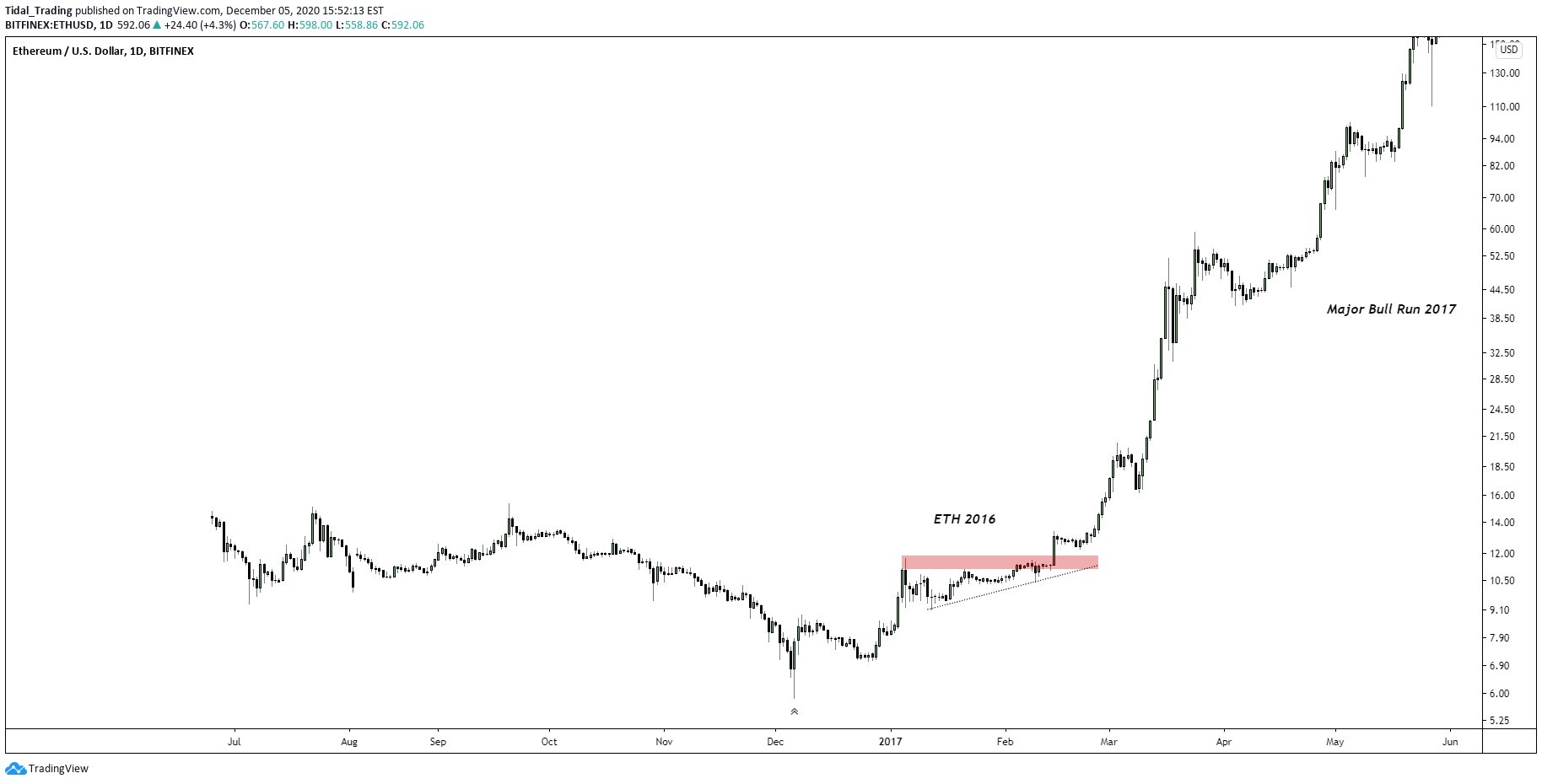 Chart of ETH's macro price chart from mid-2016 to mid-2017 with analysis by crypto trader Crypto HornHairs (@CryptoHornHairs on Twitter).
Source: ETHUSD from TradingView.com
Fundamentals Extremely Bullish
The fundamentals of Yearn.finance are bullish, boosting YFI's prospects.
Namely, developers are in the midst of rolling out Yearn.finance's v2 Vaults. Vaults are the protocol's main product, which allows users to earn a regular and relatively safe yield on their deposits of assets such as stablecoins and Ethereum.