Bitcoin has dropped since the highs of $15,975 set in the middle of last week. The price of the leading cryptocurrency currently trades for $15,200 but traded as low as $14,300 on Saturday.
Despite the drop, analysts believe that the cryptocurrency remains on an upward path. They point to longer-term charts that show Bitcoin is still holding key support levels on a medium-term to long-term basis.
Bitcoin Remains "Convincing" For Bulls
Bitcoin remains in a bullish position on a longer-term time frame despite the drop from the weekly highs, one trader recently said. The trader in question pointed to the chart below, which shows that Bitcoin is exiting the upper range of its one-week Bollinger Bands. This indicates a decisive break in the macro consolidation that Bitcoin has experienced over the past two years:
"$BTC #Bitcoin weekly working on it's 5th green candle in a row, but more importantly a convincing close above that July 2019 cluster."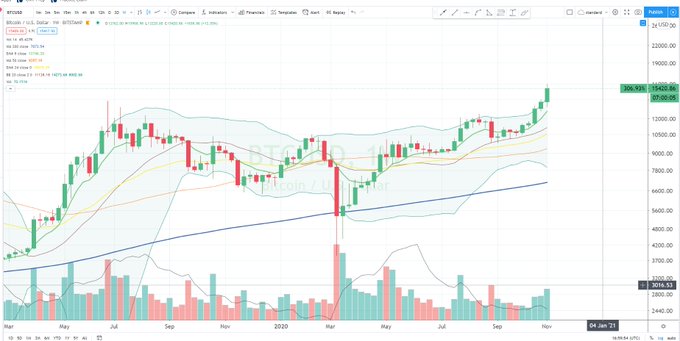 Chart of BTC's price action over the past eighteen months with analysis by crypto trader Cheds (BigCheds on Twitter).
Source: BTCUSD from TradingView.com
This sentiment is in line with that of other analysts, who say that as long as the cryptocurrency holds the $14,000 region on a macro basis, it will move to new all-time highs, or at least $20,000. Raoul Pal, CEO of Real Vision and a Wall Street veteran, recently stated:
"There are literally only two resistances left on the #bitcoin chart – 14,000 and then the old all-time high at 20,000. I fully expect new all-time highs by early next year at the latest."
Fundamentals Favor Bulls
Pal also says that the fundamentals favor bulls.
He recently said that the "macro, flows, technology, demography and societal strains" all point in the direction of the growth of the…