Chainlink (LINK) has experienced a strong decline after peaking at around $20 in August. At the recent lows, the coin traded around as low as $8, meaning that it had declined by 60%.
LINK may be poised to revert to its bullish stance though as the coin forms a bottom formation, analysts say.
Chainlink May Soon Move Higher a Bottom Formation Appears
Chainlink is likely poised to continue its ascent to the upside in the near future, analysts say as the coin retakes crucial horizontal levels. One analyst shared the chart below of LINK just recently, writing that the "cycle lows" might be in the for the cryptocurrency:
"Cycle lows might be in on Chainlink. Seeing a lot of the top DeFi hype coins lose its shine, makes me think that Chainlink will get some time back in the spotlight. Currently at resistance and waiting for the flip to enter. I think $BTC and $ETH lead up again."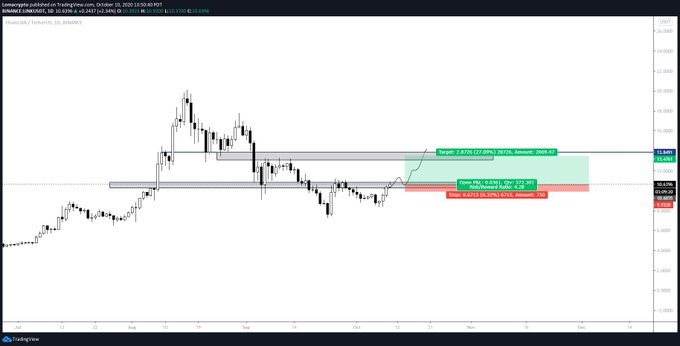 Chart of LINK's price action over the past few months with analysis by Loma (@LomahCrypto on Twitter). Chart from TradingView.com
Another analyst is expecting LINK to move higher from current levels. He shared a chart recently that indicates that the coin is on track to move towards $12.50 and beyond in the near future. He did note, though, that he is not 100% certain that this is the ultimate bottom for Chainlink, which again has been halved from its all-time high price set in August.
The trader that made this prediction is the same one that predicted in the middle of 2018 that Bitcoin's bear market would bottom at $3200. He was proven almost exactly correct just six months later when the leading cryptocurrency found a bottom at $3,150.
All Eyes on Bitcoin
While Chainlink does have its own technicals indicating upside, it is unlikely to move too far to the upside unless Bitcoin…