Another week, another round of Crypto Tidbits.
It's been another volatile week for the Bitcoin market. In the past seven days, the leading cryptocurrency has traded at both $11,100 and $12,000, whipsawing between the levels as the price enters a consolidation. Ethereum, on the other hand, has been surging higher; ETH now trades for $440 as of this article's writing, around 6% higher than the early August high.
BTC's drop towards $11,100 this week was triggered by a collapse in the values of precious metals. Gold saw its worst day since 2013 early this week, resulting in a similar correction for Bitcoin. The ongoing BTC rally towards $12,000 has been propelled by Ethereum undergoing a breakout of technical significance, slingshotting the asset higher.
Chart of BTC's price action over the past seven days from TradingView.com
Analysts remain optimistic about Bitcoin due to macroeconomic trends.
Dan Tapiero — the co-founder of DTAP Capital, Gold Bullion International, and a digital asset-focused fund — recently wrote in reference to the chart below:
"Tremendous long term Log Chart of #Bitcoin projects up 5-10x on this run. Just breaking up NOW. Should last a few years as 2.5yr consolidation is fantastic base for catapult up. Break of old highs will have explosive follow through. Time to sit and be patient."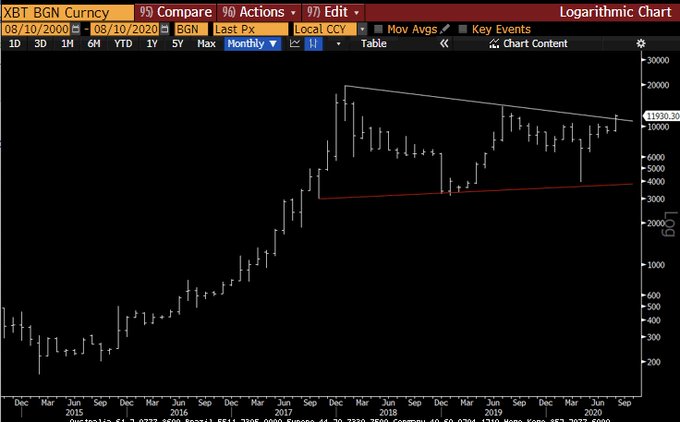 Chart of BTC's macro price action (Logarithimic chart) by Bitcoin bull and gold investor Dan Tapiero. Chart from Bloomberg
The optimism was echoed by Raoul Pal, the chief executive of Real Vision. The Wall Street veteran said that he thinks almost every other trade is "inferior" to Bitcoin. Pal added in a later tweet that for the next 24 months, there's a good likelihood Bitcoin will be the best-performing asset in existence.
"These are all INCREDIBLY BULLISH long-term chart patterns. The probabilities in the charts suggest that Bitcoin is likely set to be the best performing major asset in the world over…