Coinbase shares closed at $327 on their Nasdaq debut, giving the crypto exchange an initial market cap of $86bn on a fully diluted basis.
Fully diluted refers to the total number of common shares outstanding and available to trade on the open market after all possible sources of conversion. But some feel this measure gives an inaccurate valuation as it includes options and restricted stock, therefore overstating the number of shares used in the valuation.

In the buildup to the IPO, some analysts expected Coinbase to achieve a $100bn valuation. While its closing valuation wasn't a million miles away, it was still less than expected.
Coinbase Listing is a Watershed Moment For The Cryptocurrency Industry

Coinbase is the first major crypto company to test the U.S. public market. Its IPO was hailed as a turning point in cryptocurrency going mainstream. Analyst Dan Ives wrote:
"Coinbase is a foundational piece of the crypto ecosystem and is a barometer for the growing mainstream adoption of bitcoin and crypto for the coming years in our opinion."
COIN opened at $381 on the Nasdaq Global Select Market. Early on, buyers pushed the price as high as $429, but bears soon took over to dip the price as the day wore on. It ended the session at $327.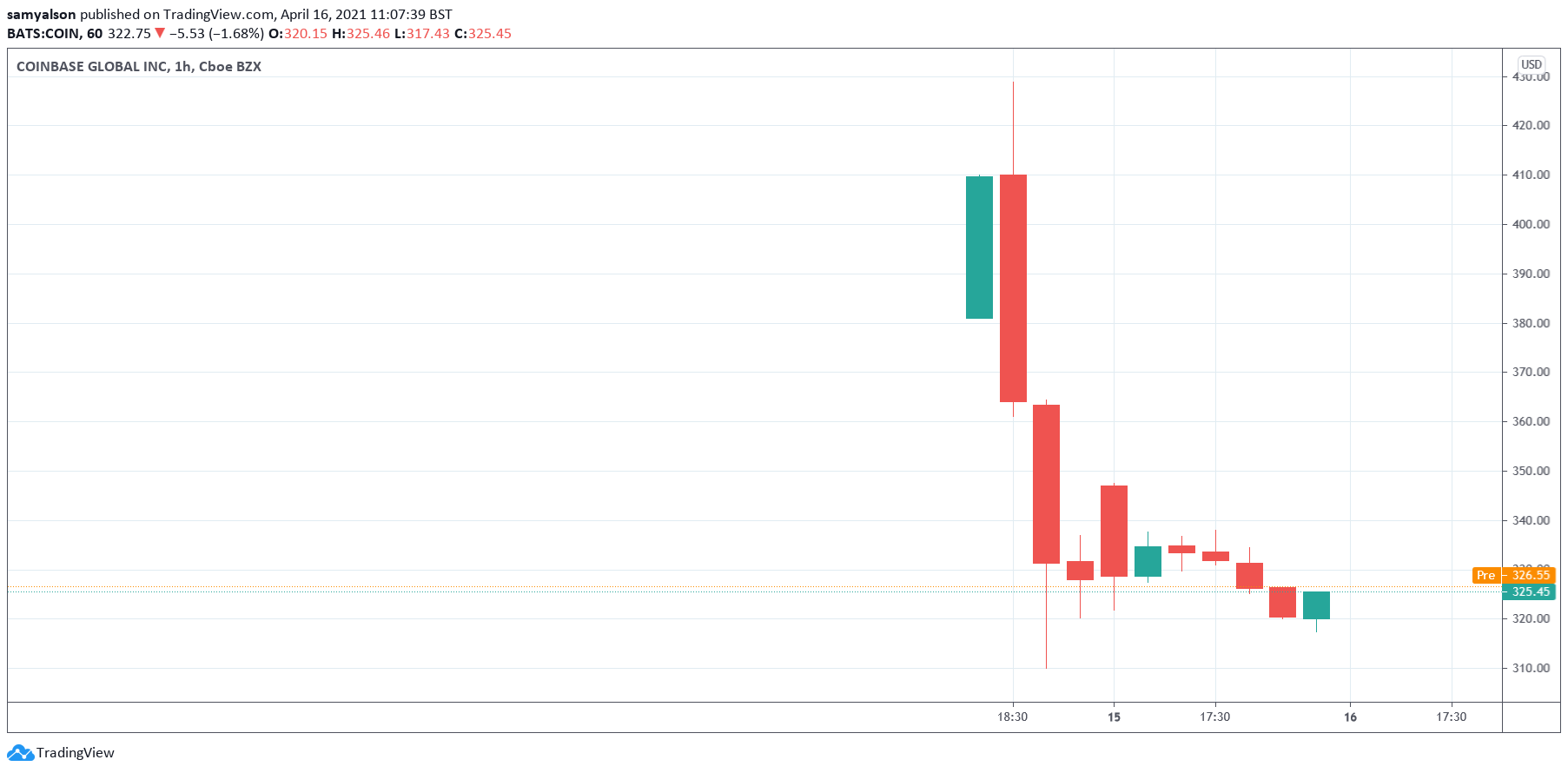 Source: COINUSD on TradingView.com
The firm had released some impressive figures before its public debut. It showed a spike in revenue and a doubling of its monthly active users from the previous quarter.
But market research firm New Constructs had already sounded the alarm on a severe overvaluation at $100bn. They believe a valuation this high takes no account of a future squeeze on its transaction margins.
the company has little-to-no-chance of meeting the future profit expectations that are baked into its ridiculously high expected valuation of $100 billion."
The Actual Valuation Should be $65mn

While Coinbase's fully diluted valuation came in at $86bn, pretty much in the middle of pre-debut expectations of between…