Bitcoin is on track of further price appreciation as it decouples from a classic positive correlation with tech stocks, according to Mike McGlone of Bloomberg Intelligence.
On Wednesday, the senior commodity strategist highlighted the ongoing trend deviation between the flagship cryptocurrency and the Nasdaq 100 Stock Index — a benchmark that tracks the market performance of leading US technology companies.
He posted a chart that showed BTC/USD in a clear uptrend in comparison to a slightly bearish Nasdaq 100, at least in the previous five weeks. Excerpts:
"Underpinnings for further appreciation in Bitcoin are improving vs. the Nasdaq 100 Stock Index. The extended link since 2017 between the price of the benchmark crypto and technology-led equity gauge appears to be ending, with fundamental and technical factors favoring Bitcoin."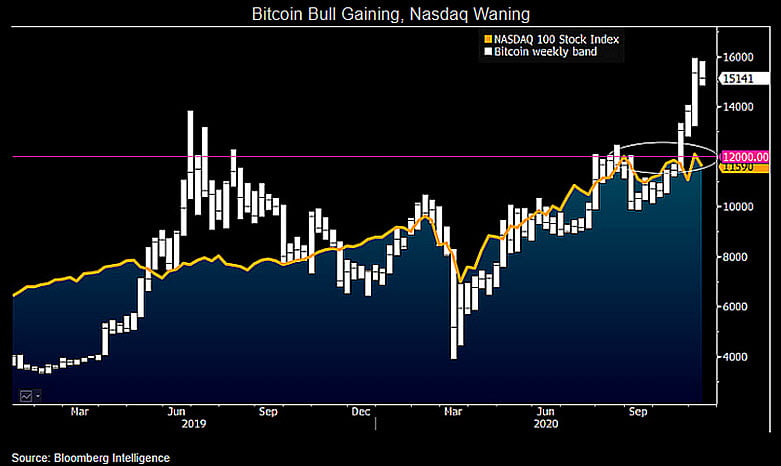 Bitcoin-Nasdaq correlation. Source: Bloomberg Intelligence
Nasdaq-BTC History
The rise of coronavirus infection rates earlier this year played a key role in sending tech stocks higher. Apple and Microsoft reclaimed its trillion-dollar market capitalizations. Meanwhile, the global lockdowns also helped Alphabet (Google) and Amazon enter the cuatro comma club.
Overall, the Nasdaq 100 surged by as much as 41.22 percent as of September 3 on a year-to-date timeframe. In comparison, the Nasdaq Composite Index was up by a maximum of 30.17 percent.
Nasdaq 100 consolidates after topping out September 2. Source: US100 on TradingView.com
Bitcoin, a tech asset itself without a listing on leading Wall Street indexes, surged 121.36 percent after establishing its yearly high near $16,000 earlier this month. That pushed the cryptocurrency's market capitalization (~$200 billion) above that of PayPal Inc (~$186 billion).
The Nasdaq 100 started correcting lower because of…