At long last, Bitcoin has begun to move. In the past hour as of this article's writing, the leading cryptocurrency has jumped up by $150 — BTC now trades at $9,320.
CHart of BTC's price action over the past two days from TradingView.com
While a move welcomed by bulls, it's far from the explosive breakout that some were expecting. Case in point: volatility indicators, which barely notice 1-2% moves here and there, remain at multi-year lows. By some measures, in fact, volatility in the Bitcoin market is the lowest since 2017's explosive rally.
Analysts remain certain that the explosive breakout is near, citing these volatility indicators.
Fortunately for bulls, there seems to be a growing case for Bitcoin to continue higher after its $150 rally on Tuesday morning.
Bitcoin Will See a "Monster" Breakout
According to a cryptocurrency trader, Bitcoin will see a "monster breakout" in the next three days as prices continue to tighten on a macro scale.
He shared the chart below along with his strong assertion. It shows that per the Bollinger Bands, a key technical indicator denoting volatility and key levels, BTC's price action is extremely tight.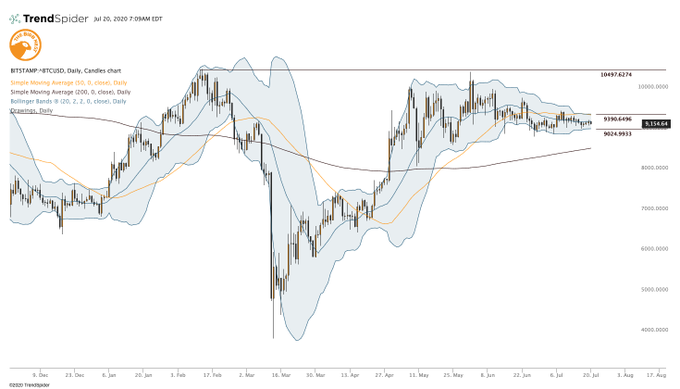 Chart shared by crypto trader "CryptoBirb" (@Crypto_Birb on Twitter) of BTC's recent price action and the Bollinger Bands.
Separate analyses of the Bollinger Bands indicator have found that they are at their tightest levels since November 2018. What followed the consolidation, of course, was a 50% drop over the span of two weeks that ended the bear market.
This suggests there will be an imminent move of macro proportions, likely to play out within the next week or two.
Bulls Are In Control? 
Volatility indicators do not indicate which way the leading cryptocurrency will break. But with this latest news and new analyses, a growing number of traders are betting on the case for upside.
KI Young Ju, the chief…