Bitcoin's second layer payment protocol Lightning Network has been expanding unnoticed by most users. First proposed in 2015 and launched in 2018 as a beta, its adoption and capacity have accelerated during the past few months.
The Lightning Network allows users to send fast and low-cost transactions via payment channels. Unlike the Bitcoin-based layer, lightning transactions are processed "off-chain" via a mechanism called gossip and probing that enables nodes can follow possible transaction routes.
Arcane Research published a recent report wondering if this Bitcoin-based network will have a similar momentum as decentralized financed in July 2021, during the "DeFi Summer". A mania broke out during this period and seemingly everyone started to interest in DeFi dApps.
Data from this research firm indicates that the Lightning Network increase its capacity from 1,100 to 1,200 in 39 days. Later, from 1,200 to 1,300, it took it 34 days, as the chart below shows.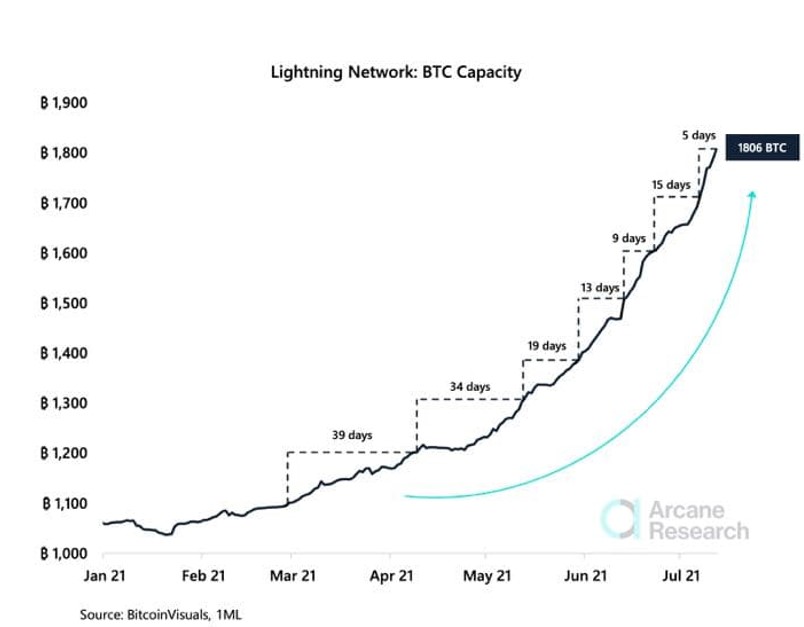 At the moment, Bitcoin's Lightning Network has a capacity of around 1,800 BTC. Its expansion period has been contracting, it took it 5 days to rise from 1,700 BTC to its current levels of around $60 million worth of BTC.
In contrast, this metric stood at 1,040 BTC at the start of 2021. Thus, Arcane Research records a 70% increase in under six months. In comparison, it took this network three years to go from 0 to 1,000 BTC.
As a consequence, there has been an exponential rise in the number of nodes activate on the network. This metric stands at 22,705, but Arcane Research noted that only 12,079 operate as active payment channels. The former channels have surpassed 55,000. The research firm claimed:
The rapid growth could be a consequence of the increased use of the Lightning Network, which has seen greater exposure and demand in recent weeks, with El Salvador's government making bitcoin legal tender.
Bitcoin Could Jump To Mainstream Adoption On Top Of The Lightning…