Like most other crypto assets, Ethereum has slipped lower over the past four days. After peaking on Monday, all cryptocurrencies have retraced as Bitcoin has fallen lower seemingly due to a rise in the value of the U.S. dollar against foreign currencies.
Ethereum has actually underperforming Bitcoin in this retracement, dropping around 11.5% from its year-to-date highs as opposed to just 7%. This seems to be the case with all altcoins, whereas capital flooded to BTC during the correction as investors sought safety.
Despite some fearing this downtrend is set to continue, an analyst has noted that Ethereum still has a bullish market structure. This market structure could fuel a move back to the upside.
What's Next for ETH?
According to a pseudonymous analyst, ETH is still in a good spot against Bitcoin. He shared the chart below on August 22nd to explain his sentiment; it shows that Ethereum is still trading above important levels against Bitcoin, including 0.032 BTC.
"My thoughts on $ETHBTC here: Bullish MS still clearly intact, dips are for buying. Clean sweep & reclaim of the 0.032 is my trigger, targeting 0.042 & 0.053."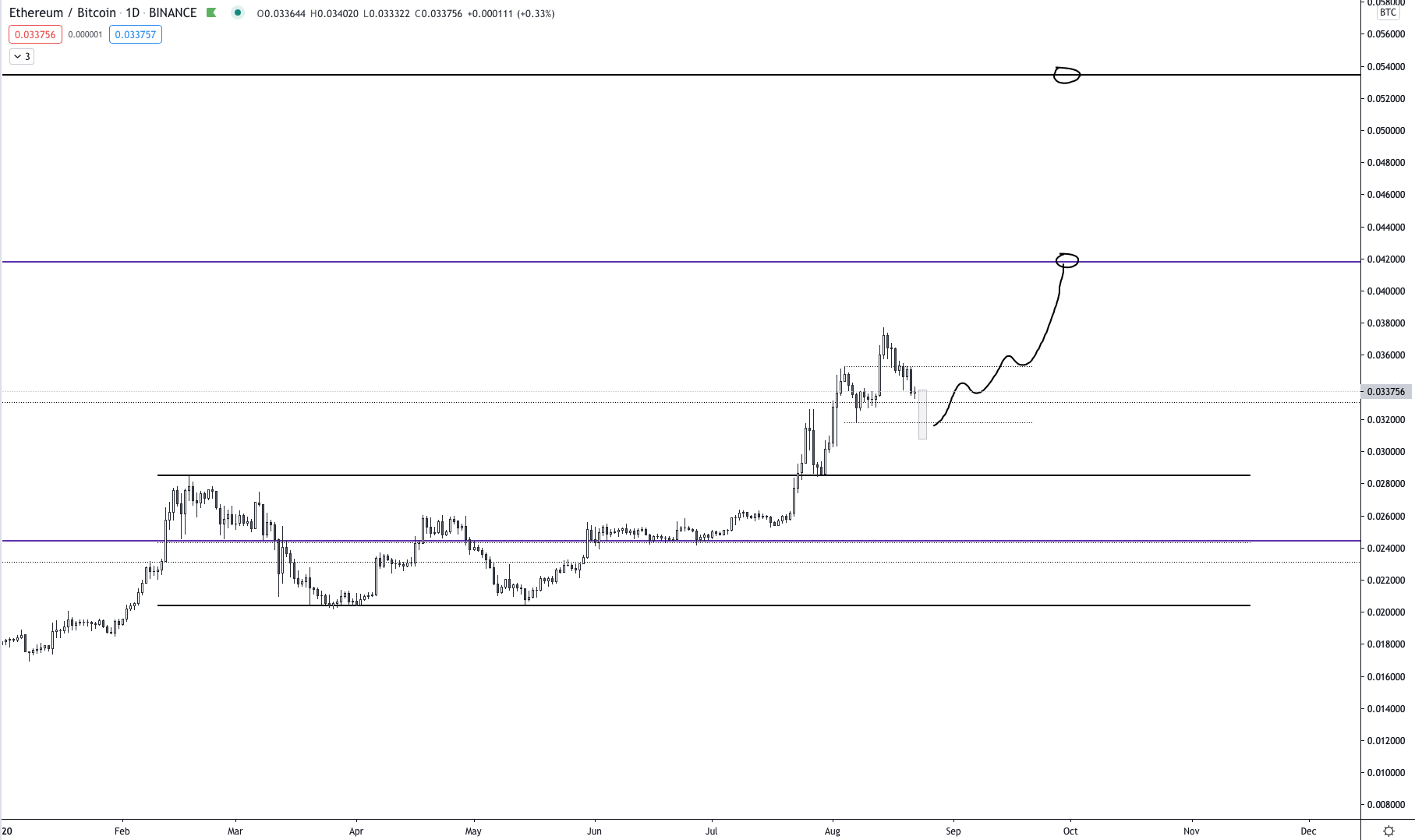 Chart of ETH's price action against Bitcoin since the start of the year with analysis by trader CryptoTrooper (@Cryptotrooper_ on Twitter). Chart from TradingView.com
This bullish sentiment is actually contrarian; that's to say, most analysts are actually bearish on Ethereum at the moment.
Another trader noted that the recent drop in the ETH/BTC pair is actually more technically damaging than depicting above. "Looks like a local top," one quipped in reference to the indicators. "Daily RSI and low tf ema are bearish and so is weekly stochastic RSI."
Imminent Bitcoin Volatility Could Hurt Ethereum
Bears may actually have the upper hand, especially considering the volatility Bitcoin is likely…